While enjoying your stay in the Algarve and Praia da Luz, enjoying the nice sand, beaches and weather, there are some precautions to take.
Praia da Luz, like most beaches in the Algarve has a full-time lifeguards on duty (but only during the high season, running from May until the end of October) and he uses the safety flag warning system, so you should understand what each flag means:
So first of all, obey the lifeguard he isn't there to police or to bother anyone, he is there to help and to keep everyone safe, so please always follow the lifeguards directions.
Respect the Flags:
Red Flag – the sea is too rough and dangerous, you should not enter the water for any reason.
Yellow Flag – the sea is a bit rough, you can take a bath, but with care, still no swimming and do not go to deep water.
Green Flag – the sea is calm, you can swim, still you should always be careful with children and yourself, and a good trick is to swim parallel to the coast, so if you get tired, its easier to swim back to shore.
Chequered Flag – the lifeguard is not on the beach, you should take extra care when going to the water (its a common flag when the lifeguard leaves the beach at the end of the day).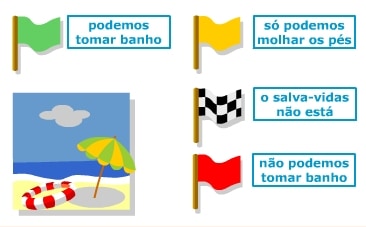 Do not dive from places you don't know, yes i do know there are some good spots for diving in Luz, but if you don't know them well, don't do it, low tide, wrecks or just misplaced step and you can get really hurt.
Especially with children, tell them if they get lost to go to the lifeguards station (thats where the flag are, so its easy to spot), the lifeguard will help you.
Also as a sidenote, Praia da Luz has an EEC "Blue Flag" award for beach and sea cleanliness (Its a blue flag with waves). These are awarded yearly only for quality beaches, so if you are entering a beach in Portugal, if it has that flag its a good sign.